Womens Costume Jewelry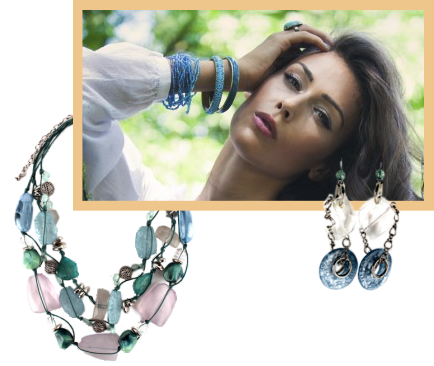 What's the word on womens costume jewelry you ask?
The word is BIG!
As in big, bold and beautiful.
I know this because although I'm an artist running through my eighth decade, wheelchair bound, and deaf as a doorpost without my hearing aids in place, I still get a chuckle by following the antics of the fashionistas who flock to New York Fashion Week.
I especially like to see photos of the flamboyant folks who get "dressed" to attend the shows.
This year it was the size of the jewelry that made it onto the runways that surprised me.  The season is calling for larger-than-life baubles that are designed to make an impact.
Not for the meek and inhibited, that's for sure.
Womens Costume Jewelry Earrings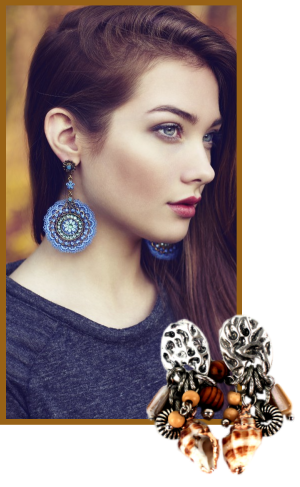 Earrings, for example, were HUGE!  I don't think I've ever seen so many designers present such large women's costume jewelry earrings. The must-have pieces include dangles and drops with lots of jiggly bits.
But there's one exception...ear bubbles.


Last season Dior introduced the concept of a sort of double whammy pearl earring that looked as good from the back as it did from the front.  Other designers have replicated the idea and now they're available in many colours and in less expensive materials.
Check them out.
Statement Necklaces


If trendy is in your future go for the glitz and shop for large statement necklaces...they aren't going anywhere any time soon.
The right statement necklace can transform any outfit into something spectacular.   It might be the only accessory you'll need.
In the dark ages, a rhinestone necklace was paired with a fancy dress that would have taken you to a cocktail party or a ball.  Nowadays rhinestones and pearls are even used to dress up something as lowly as a t-shirt!
Bangles and Bracelets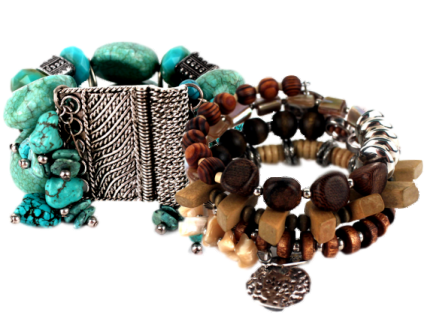 If you don't think you're quite ready for such a flamboyant neckline there's an easier way to embrace the big and bold womens costume jewelry trend...go for a chunky bracelet...or two...or three.
A grouping of large bangles is inexpensive and really versatile. You can wear one or two narrow bands to the office and slip a few more on your arm if you're heading out on a date after work.
But the stretchy bracelets made from large multicolored beads of various shapes and sizes are what the real fashionistas are wearing.
And wearing a bracelet embellished with dangles is a fantastic way to get movement without bulk. 
I'm a huge fan.
---
Read on for more fashion jewelry trends.