Fashion Jewelry Trends

Big, Bold and Beautiful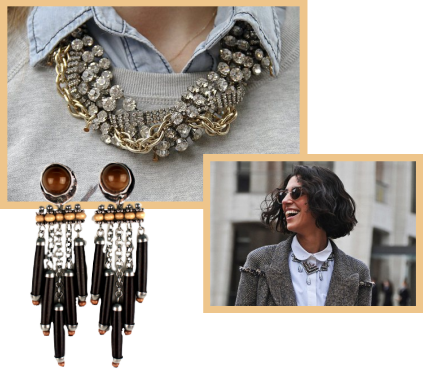 As with all things fashion, jewelry trends change from season to season.
This year the curtain has opened on big, bold statement necklaces, bracelets and earrings.  There's a whole mix of styles ranging from chokers, lengthy nested strands of large beads and embellishments, bibs and lots of fringe.

In the dark of ages of my youth such adornments were only worn with evening "party" clothes.
Nowadays anything goes.
The most on-trend way to wear the necklaces is under the collar of a buttoned up shirt.  Chambray and rhinestones make a fun combo but just open your closet and pick and choose.
For a more casual look the same necklace can be worn over a simple tee with a contrasting cross-shoulder bag bouncing at the hip.

Asymmetrical Earrings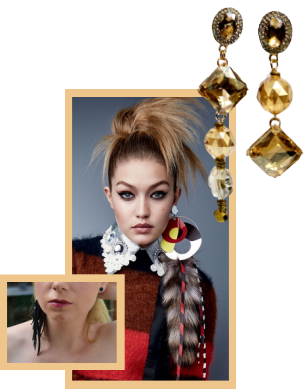 When it comes to change, youth, needing to give outward expression to their message of individuality, lead the charge.
Sometime ago it was de rigeur for both young men and women to wear a single earring but that trend has given way to an even more dramatic look.
Asymmetry is the new thing.
Whether it's mismatched colors, mismatched styles or mismatched size, asymmetrical earrings are one of jewelry's coolest trends.  The concept hit the runways during New York's Fashion Week and the streets moments later.
Designers are already creating asymmetrical earring pairs but a solution for you is to simply pick and choose from your own collection.
All this reminds me of my husband and his socks.  His sartorial quotient is exactly zero and I think the quip  "I have a pair just like them in my drawer,"  might have originated with him.
Pastel makes for Pretty Fashion Jewelry Trends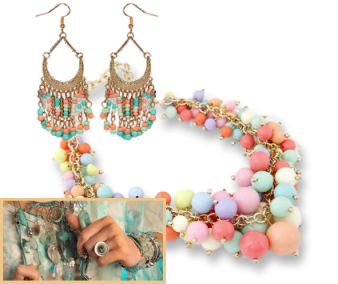 To soften the big bold chunky trend, look forward to a soft spectrum of rainbow pastels to brighten up many an outfit.  You'll often see them in apricot and mint green hues paired with creamy ivory, mauve and pale blue. 
We sometimes have a few handbags in the same colour family.

Muted beach glass beads in pale tones will also add a feminine touch despite their size. 
Big Bold Beautiful Pendants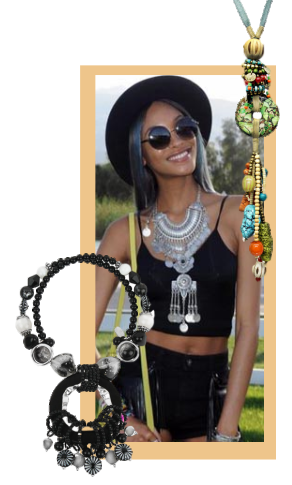 The pendant necklace has come out swinging in oversized versions that add a dose of drama to the most timid personality.
Not your dainty gold or silver adornments, the new fashion jewelry trends call for pendants that are big and bold.    So big that they're often seen suspended from an equally large bib that might include a beaded ladder and some type of fringe.
---
Shop here your next piece of jewelry here.
More about women's fashion jewelry.