The Chunky Necklace Has Its Day

A chunky necklace is a high-impact trend that's worth buying into whether you're the casual jeans and tee-shirt kind of gal or the fashionista who wears heels and make-up to breakfast.

The statement necklace is a seriously powerful styling tool.
It can either be interpreted as a bold statement or look like a casual addition to an outfit that you popped over your head as an after thought.  It all depends on how you want to pull it off.
For a flashy bohemian look try a long necklace made up of several strands of beads nested together.  Then add bangles or a chunky bracelet embellished with charms and dangles.  Top the look with chandelier earrings...or at least huge posts.
For a romantic sexy look add a frilly blouse to your bohemian garb.
Not the kind of thing to wear to work is it?
For the office you can still go for the big statement. . . but slow down on the jiggly bits.  Wear your bright chunky necklace with neutral colours or a small print.  Let the necklace shine by avoiding earrings all together...or choose subtle posts.
As for bracelets . . . that's your call, but I find that big ones are uncomfortable to wear at a keyboard.

The Chunky Necklace and the Collared Shirt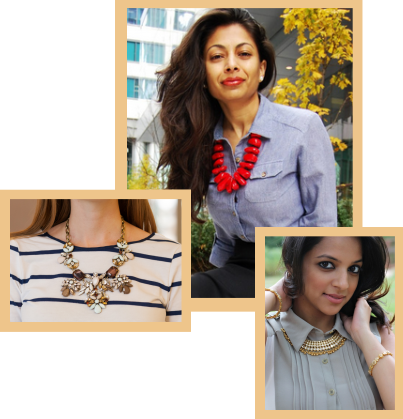 If New York Fashion week is anything to go by, ladies in the know like to wear a statement necklace with a collared shirt.
The trick is to choose a necklace that will lie flat and wear it under the collar . . . not on your skin.
Leave the top button of your shirt undone for a somewhat casual look.  If you're heading into a business meeting button up tight and let the necklace peek out from under the lapels.
What a difference that collar makes.  If you add a smart jacket and grab a sheaf of papers you'll be ready for business.
For a much more casual look choose a bib style bauble that adds bling to a rounded neckline on a solid colour, striped or patterned top.
Just be sure the necklace is long enough to fall well below the collarbone or with your daily moving about it might slip under the neckline of your shirt and disappear from view.
Big Business and the Power Statement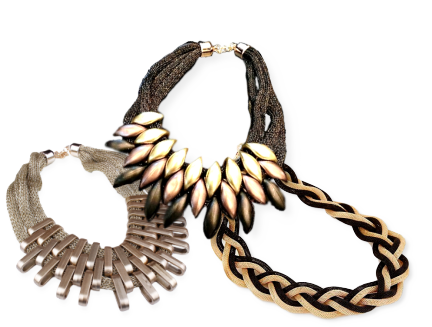 If you're on the way up the corporate ladder and a suit is part of your daily armor, leave off the glitter and rhinestones and look for a statement necklace that in itself speaks of power and class.
You don't have to go for the gold . . . real gold, that is . . . but emulate that rich man's world with something that gives the impression.
These necklaces might look heavy but they're light as a feather and will do double duty as STUNNING embellishments to your little black dress.
---
Shop for a necklace right now!
Some words about chunky bracelets or cool earrings.