Whimsical Home Decor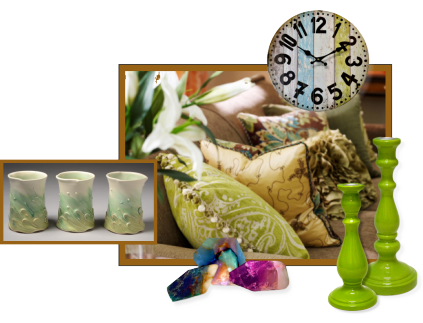 Choosing whimsical home decor accessories to sell in my store hasn't been much of a burden.  Whimsical and funky have more or less defined what my own home has always looked like.
It wasn't as if I planned it that way. 
But I raised my family in the dark ages when folks lived on a single income so I got to experience shabby chic before it was a decorating concept. 
"Shabby" was what I could afford but "chic" was what I made out of it.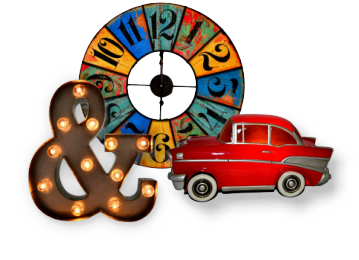 Distressed tables and chairs were part of my landscape . . . but they stood proud when I sanded the top surfaces, oiled them with Crisco (grin) and painted the legs and edges with a mat black paint that was left over from the time I tried to freshen up the old tin barbecue with a coat of so called fire-proof paint.

What I learned at that time of my life was that a bright pop of colour hung on the wall, plopped into a corner of the old couch or placed just-so between the books on the board and milk crate shelves made a world of difference.
And the thing is the colour didn't  have to coordinate with anything else in the room . . it just had to be a bright spot in my life!
See the red car to your left?  It's a lamp and it could be your bright spot.
Anyway . . .

That was My Introduction to Whimsical Home Decor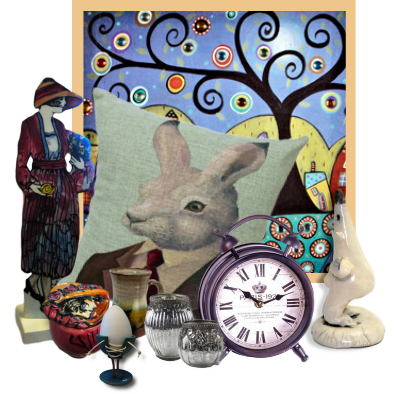 I didn't call it whimsical at the time, of course.  It was just my way of making my home MINE.
But it taught me that it felt good to live outside the box, to not feel the need to be constrained by what someone else thought was an appropriate ornament in my living room.
When I travel to the gift shows or study wholesaler's online catalogs I know I should buy if I can immediately envision that something sitting on one of my own shelves, on my coffee table or tucked into the corner of my own (still delapidated couch).
So that's what you get when you shop at That's Empressive . . . a little bit of what I'd like in my life.  I never look at the "what's popular" or "hot seller" sections.  I just buy what I like and hope that folks coming into the store like that stuff, too.
But enough of whimsical.  Home decor can also be handmade.